some stash busting
was done this week for my "what you listen to while crafting" cd swap :)
for my first partner, i made her a mix of songs based on genre's she liked, along with some ska since i think everyone would enjoy ska if they listened to it more :p besides, her fiance apparently likes it, and i had alot of fun listening to this mix!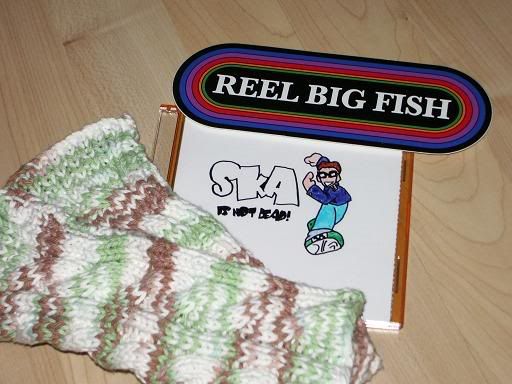 for the small craft, i made her wrist warmers off of the irish hiking scarf pattern : found here
http://wineandneedles.blogspot.com/2004/12/wrist-warmer-pattern.html
i used cream and sugar cotton yarn, i bought this on an impulse cause i liked the colors, then i never used it. :sigh:
i really like how the cover came out though, i found an image i liked of a rude boy, and i used my sharpies to trace the image onto the cover :) and i had an extra rbf sticker lying around which will now go to her fiance, cause really.. who doesn't love rbf?! (btw, i just scored tickets to their dvd taping show in fullerton on 3/23! they're playing 2 full sets for the recording!! how psyched am i!?)
for my second partner, i've really become addicted to grey's anatomy. like, seriously addicted, as in, i have to show this awesome show to everyone i know, and i LOVE the music they use.. so i've been making tons of playlists with just these songs. thank goodness my second partner expressed an interest in this show cause that's what she's getting :) my 3rd official grey's anatomy playlist (see.. i told you i was addicted.. i've made 3 cd's!!) i love that my printer is cooperating enough with me to allow me to print up the picture for the cd cover, cause lord knows i'm not talented enough to do something too creative with this cover..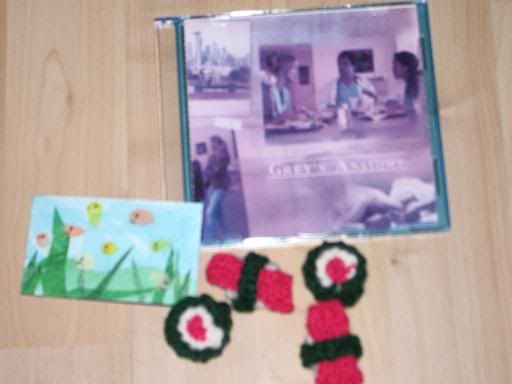 i know it's random to do sushi knitting to go along with this cd.. i should've done something more grey's related. but i wanted to knit some more from my stash, plus this girl does enjoy sushi :) PLUS i've always wanted to knit sushi!! to make it seem not so plain and useless, i glued magnets to the backs of these babies.. although i probably should've used my glue gun (it ran away somewhere :( sob!) so i used gorilla snot (glue) and it doesn't seem to be too sturdy, so i hope she's gentle with her new magnet set. since i wanted to make sure these magnets didn't move around too much during the shipping, i made a small flat magnet for them to rest on (the front i made another tissue paper picture.. supposed to be under the sea with little fish blobbies.. but they look kinda retarded) then i boxed the whole set in a bandage box. yea, not that pretty, but it gets the job done, plus this way i can package everything right now.. otherwise i'll never get it done.
so it's off to the post office tomorrow after school to ship these swap packages out :) yay me!