the tin is finished!
here are my final pictures :) i'm kinda sad to be parting with my tin, but it's too late now.. in the mail as we speak!
anyhoo, i figured out the best way was to write everything i wanted with a sharpie onto more white tissue paper, then add it to the outside and it would just blend in with everything. this way i wouldn't have to worry about fudging up the tin with my crappy writting. i printed up a couple different fonts/sizes of the word "imagine" since my own handwriting wasn't cutting it. then i was able to trace the image, and i think it came out pretty good! although the picture is a bit blurry.. you get the idea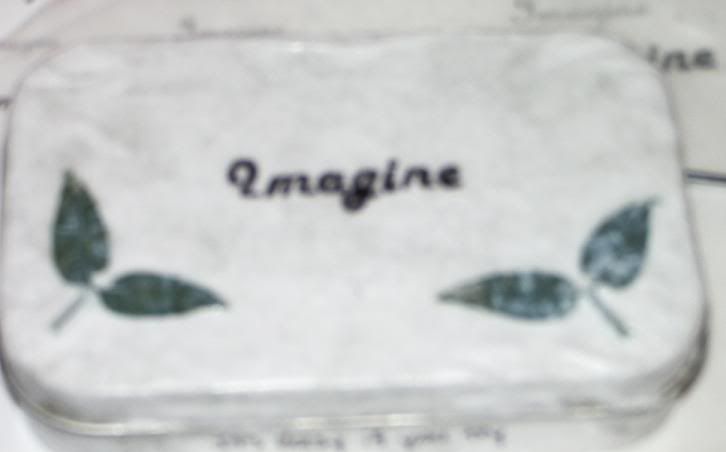 it looked a bit bare and boring just white with black writing, so i added some fresh leaves to the top, cause.. i like green and white together.. that's my whole color scheme in my room! and yea, i like simple images too, i thought it went well :)
the bottom of the tin ( i didn't bother taking a side shot for the other quotes; one says "there's no heaven" the other "no hell below us") so that you could see what i meant about writing the quotes on the bottom half around the tin. you might also notice that i added more paper to the inside of the tin to fill in the empty spaces in the back. looks much more fleshed out :)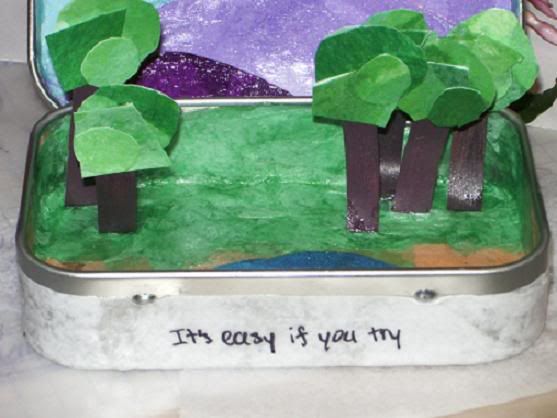 and finally, i wanted to use alot of white to make it seem like the quote was on a cloud, but then that got to be a bit too much work. i like my blue sky and mountain too much to cover it up with a cloud!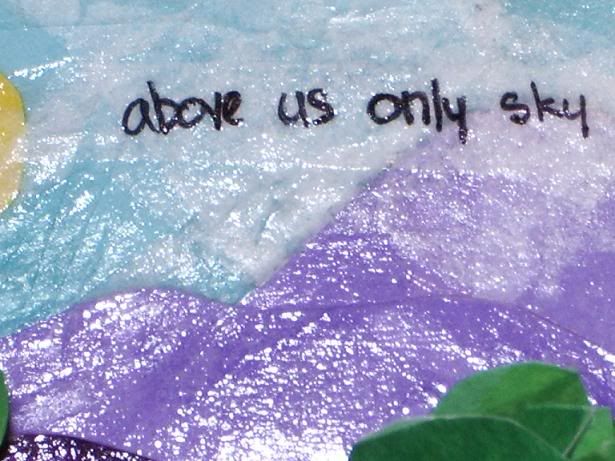 and that's it! i picked some flowers from my mom's garden and used the leave for the lid, and the flowers are inside to scent the entire tin. hopefully it's still a good scent when it arrives! i wanna say they're a type of jasmine flower, but either way. i love the smell :)
my only regret with this tin is that i free-handed the bottom and it didn't look that great.. basically said what the tin was for/when it was created and my name on it; my group of four trees in the right hand corner, you can see the string too much between the trees.. should've had it going under the bushy part instead of over..; and the very back, ugly protruding butt part of the tin that props the lid up. le sigh.. i have to figure out a better way to do that next time. anyways, enjoy!