not knitting related
but definitely craft related :)
i'll eventually get pictures of my finished skirt being worn, but for now i'm excited to present my in progress altoid tin reconstruction!!
this is for the altoid tin swap on craftster (of course) and my theme is relaxation. my partner likes to meditate in forest'y type evnironments, and she enjoys music from the beatles, particularly "imagine". so here is my creation!
materials used:
tissue paper
regular paper
paint
mod podge
glitter
it's a tiny forest that she can take wherever so she can relax and meditate, and i'm going to write quotes from "imagine" onto the tin. i don't have pictures of the outside, but it's just completely covered in white tissue paper, and i plan to write on the top "imagine" and then on the bottom half of the tin going around (if that makes sense) "imagine there's no heaven. it's easy if you try. no hell below us.
then on the inside i want to put "above us only sky" ontop of the mountain/sky scene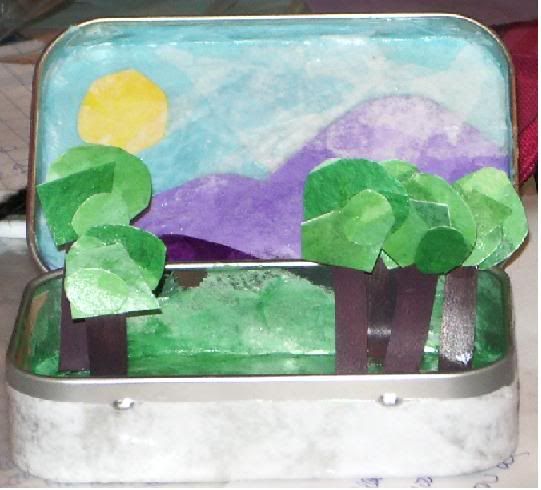 this is an inside view so that you can have a better view of my pond
and to better show my pop-up action :)
i couldn't figure out a better way to make the lid only partially open so that it's propped up.. so there's an ugly growth of tissue paper on the back that looks bad.. so hopefully she never looks at my tin's butt that often. it will make her sad :(